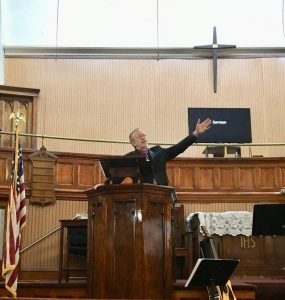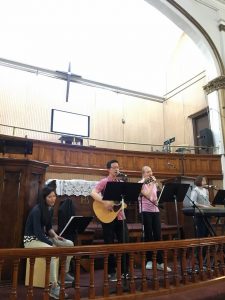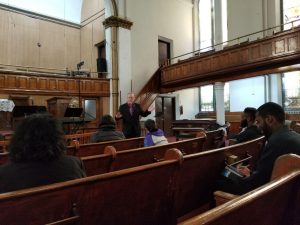 Following the theme of the month "Renewal and Discipleship", Dr. Paul de Vries gave the Sunday sermon on June 10, at Immanuel Church, from Acts 2:22-41, "Peter's Pointed, Passionate Message", to encourage believers to live a Jesus-centered life that brings the power of transformation not only to oneself but others.
"In our walk with God by grace on earth,discipleship and renewal are essential themes,"said Dr. de Vries, " When by grace we faithfully disciple others – discipling one another or new believers – we ourselves are renewed in grace and faith/faithfulness."
"There were many positive factors in Peter's Pentecost message – including three effective qualities from which we can all learn," explained Dr. de Vries. "First is Peter's confidence in God – Peter lost the guilt for his denials of Jesus.  He gained and experienced God's grace, God's favor. God's grace-filled actions are Peter's focus"
"Second is his conviction of the Gospel – Peter knew what he had to communicate, and spoke straight from his grace-transformed heart and from God's faithful Scriptures."
"Third is his  success in making connection between God and the People- Peter focused totally on both God and the people, and he connected well with both of these precious audiences."
"Let our own hearts and minds and bodies be uplifted and guided by the Scripture and the Spirit again today into deeds of sincere repentance and joyful obedience,"said Dr. de Vries as a conclusion, "Peter's message was pointed, because he was honoring Jesus' Great Commission to 'disciple people of all ethnicities.'  Peter's leadership was passionate, because he was personally renewed by the fullness of the Gospel he had experienced."
The attendees were greatly encouraged by the transforming power of the Gospel revealed in Peter's life. They pray sincerely for thr Church to continually grow and develop to transform the city by holding onto the same power.
After the service, Dr. de Vries held the Q&A section with attendees and the Church had a gracious potluck fellowship time together.