KEY: Create in me a pure heart, O God, and renew a determined, prepared spirit within me. = Psalm 51:10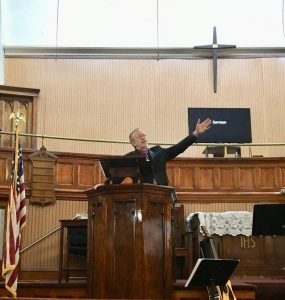 King David had a "heart according to God's own heart" (Acts 13:22; I Samuel 13:13-14), a quality that endeared him to God – and now still endears David to all of us, too! David's Godliness was not based on any moral perfection or stuffy self-righteousness. David was very deeply flawed, we all know. However, even more profoundly and deeply, David remained a man aflame with Divine passion for the LORD.
After confessing to gruesome sins of repugnant adultery and grisly murder, David did not grovel in helpless self-judgment or berate himself in brutal flagellation. Instead, David boldly sought our Creator's spiritual renewal for (a) a pure heart, (b) a ready spirit, and (c) the Divine joy of salvation [Psalm 51:10-12].
And even beyond that grace-filled renewal, David committed to God that he would disciple others. David solemnly pledged (a) to teach, (b) to sing, and (c) to declare "God's ways," including our Savior's righteousness and the Lord's praise songs [Psalm 51:13-15]. One of the ways David discipled others was to write great psalms, such as Psalm 51 – revealing to us the prayerful pattern of Divine renewal and dynamic discipleship that we surely still need now in 2018 – and to which we are committed to as a Church together.